Click on the Text denoted in red font on the side bar to visit other sites in this grid
Wearers of the "T"

1900 Men's Tennis Players wearing their letter sweaters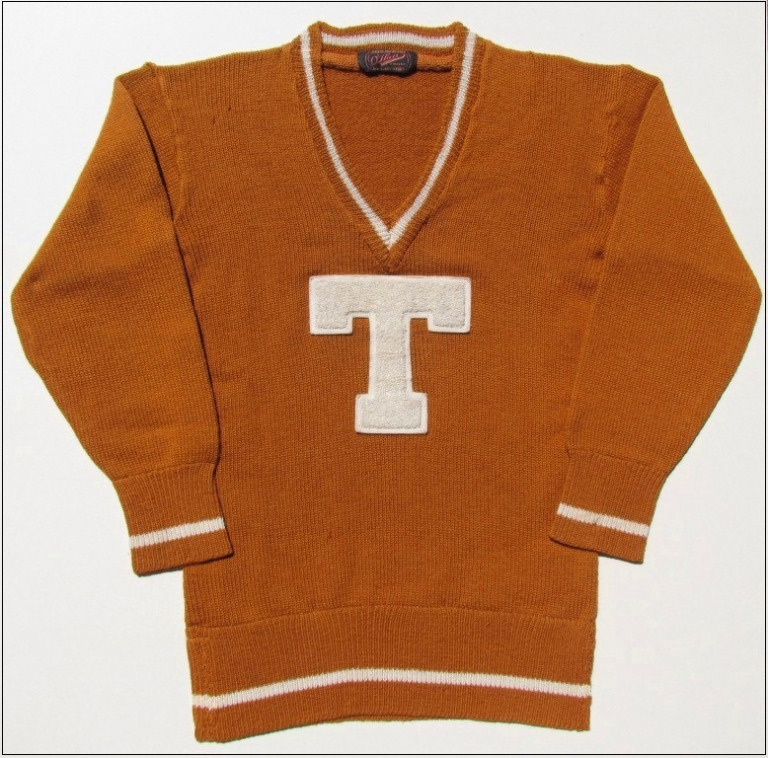 The full articles about Texas Letter jackets can be found on TexasSports.com- seach for "letter jackets".
http://www.texassports.com/archives.aspx?path=general
Part of the article from Texassports.com is below. Images have been added by Billy Dale to support the text and add an extra dimension to the article.
Receiving your first varsity letter in college is a very momentous occasion in any student-athlete's life. That is why the T-Association, which strives to create and maintain an atmosphere and structure whereby each University of Texas student-athlete becomes a lifetime member of the UT Athletics Department family, decided to create an event to recognize the students' immense success.
A letter is awarded to a student-athlete upon being designated by their respective head coach and approved by the Athletics Councils. Each sport has different criteria for lettering, and in cases of extenuating circumstances the head coach may waive criteria.
Among the honorees was soccer standout Erica Campanelli.
She says "It's definitely a huge honor, especially going to such an amazing university with such a great athletic program across the board," noted the freshman defender. "It's really an honor to be able to wear this jacket knowing everything that it represents."
"It's an honor and a really neat experience," sophomore C Buck Burnette said. "It was great to be honored like this with all of my friends and teammates. It makes you feel like you're officially part of things, so it's an exciting time and an exciting experience."
Teammate Sam Acho also noted the significance of receiving his letter jacket.
"It kind of makes my experience here at Texas feel more complete even though I'm just starting," said the freshman defensive end. "This adds a visible sign."
Women's athletics director Chris Plonsky commended the T-Association on the new addition.
"It's a great program because we want to get them started on what this really means and the significance of what they have accomplished," Plonsky said. "[Earning their first letter] is really the start of the rest of their career, and you lose some of the importance when you just get a jacket in the mail. The event was all about the reaction and the camaraderie in the room, and I think it was very successful."
Wearing the varsity "T" with pride
Jonathan Mann, Texas Media Relations

For over 50 Longhorn student-athletes, years of focus and hard work on and off the playing surface came to fruition Thursday. The 50 honored became official members of the T-Association, a group of all athletes who have earned letters at the University of Texas.

Members from the football, volleyball, soccer and track and field squads attended a banquet in the north end zone of Darrell K Royal-Texas Memorial Stadium, where they were presented with their letter jackets. The burnt orange and white jackets, with a block "T" on the chest, symbolize the first letter won for each player in their college careers at UT.
.......

"It means a lot," said volleyball setter Michelle Kocher, who played an integral role in the squad's final four campaign this past season. "In the volleyball program itself, there are so many people that have come before me that have built this program into what it is today. I'm fortunate enough to be a part of what it is now."

Football safety Blake Gideon, who started in every game as a true freshman, credits his teammates collectively for helping him reach the position he's in today.
Wearers of the "T"


"I think it's a testament to all the hard work we put in as a team, for sure," Gideon said. "I know that I wouldn't be in this position and have this opportunity if it wasn't for my teammates pushing me every day and getting after me on the practice field and in the weight room."

Even though thursday was a night to honor the first-time letterwinners, each student-athlete understands the importance of using their first years as a foundation for things to come, instead of resting on their laurels.

"It goes way back," Kocher said of the time and effort she's put into her game. "It's been a lot of years building up to this, but the work still keeps coming every day. It's never ending, but that's why I love it."

Gideon, who garnered freshman All-America honors in his first season, is looking ahead instead of behind.


"Obviously my goal is to get better not only year by year, but day by day," Gideon said. "Our coaches always tell us that you're never staying the same - you're either getting worse or getting better every day. We're going to focus on not making the same mistakes throughout the year and as the years go on. We have a lot of expectations for this next season and we're looking forward to it."


Soccer midfielder Kylie Doniak, who started in all but one of the Longhorns' games in the 2008 season, also stressed the importance of preparing for the future.

"I think we're more experienced now," Doniak said about the soccer underclassmen. "We're going to go out there and have a little more fun because we're more relaxed. Hopefully we can take the younger girls and incorporate them into the team, and go out strong."

For defensive end Eddie Jones, who had previously lettered but was being presented with his jacket, the time spent at UT is about more than just athletics.

"The people that you meet here change your life," Jones said. "Being here, you learn a lot of different things. It's all about how you take it in and use it in everyday life."