Horns - As a reminder , Perry McWilliams celebration of life is on August 11, 2019 at Saint Ed's from 4-6 in the Ragsdale venter Mabee ballroom a/b. Thanks, Tony Crosby
DKR says "If I had 11 men like Perry McWilliams, I'd never lose a game."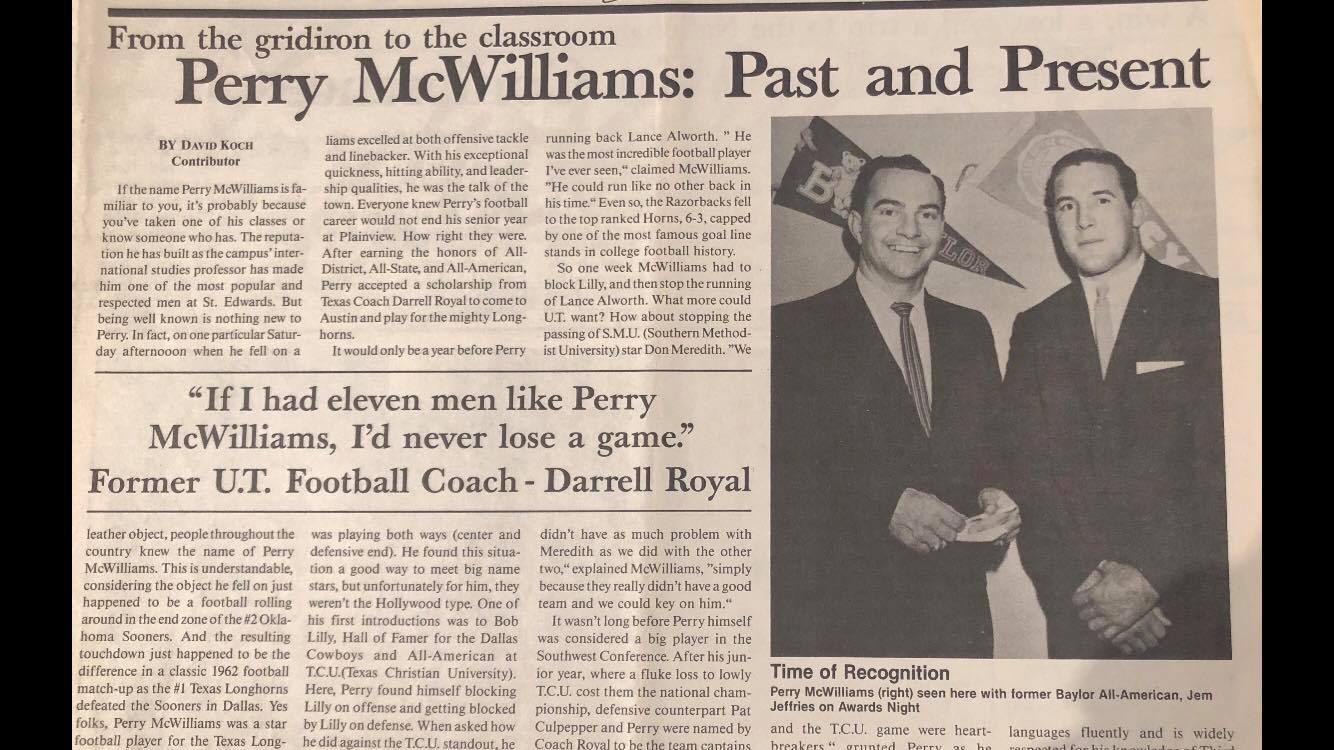 Co-Captain Perry McWilliams has passed away.
Royal recruited players judging them from the inside-out based on heart, attitude, and spirit. Royal understood early in his coaching career that players who believe they are bigger and faster than they actually are made great recruits. Perry played much larger then his 6-0 and 199 pound frame. Rodney Kelley who played with Perry said his teammates called him the man with the golden forearm from the Gold Finger Bond Movie. Rodney says "He knocked out three straight guys in the bull in the ring drill one day! I know- I prayed to not have my number called! Fortunately Coach CAMPBELL or Shira stopped it before anyone else got hurt! More pop per pound than anyone! RIP Perry!" Tony Crosby thinks but cannot confirm that before the 1962 season Perry and Pat Culpepper joined the US Marines reserves so they could go through "boot camp" in preparation for their senior season.
Royal also gravitated to recruits with dreams of greatness. No great activity starts without a vision, and as a young man Royal helped Perry McWilliams build the symbolic bridges necessary to fulfill his dreams.
Tony Crosby says "I was in Peru in 1983 and met the President of Peru, who happened to be a UT graduate. When he found out I was also a UT graduate he said, 'well you must know Perry McWilliams' ".

In a way Perry will always be with us. Perry received his masters degree from Texas Tech and with keen insight Tech decided to capture Perry's oral history. The collection is available at the Southwest Collection reading Room. Unfortunately Perry McWilliams oral history is not available on line so I was unable to access.
On the oral history tapes he discuss's the roles of leadership in team athletics, dealing with university recruiters, why he chose to attend The University of Texas , "pressures" on the college athlete, attitude toward and "exploitation" of the athlete, . On side 2 of the tape he discusses, social stereotypes associated with the athletes, and anecdotes about Texas-Arkansas and Texas-TCU games and other Longhorn subjects.
A Defining moment in the history of Longhorn sports
Many great athletes never have a defining play that is remembered by fans when their glory days are over, but Perry is not one of them. The Longhorns dislike for OU is not a current phenomenon, and Perry's recovery in 1962 of a OU fumble for a touchdown on a freakish second period play will be forever remembered.
We have lost Perry but Longhorn fans can still celebrate this great man that Royal showered with superlatives. Comments Royal never said publicly about any other Longhorn athlete.
Blessings,
Billy Dale