THE NAVIGATION TOOL TO HISTORICAL PAGES ON THIS WEB SITE ARE AT THE TOP OF THIS SCREEN SHOWN IN WHITE FONT ON A BURNT ORANGE BACKGROUND.
THE SITES ARE "TLSN", "SPORTS", "GUEST WRITERS", "MISSIONS", "ARTICLES" , "LOST TOO SOON", AND "SENTRY"
A Reflection on Augie Garrido life is at the end of this site.
Augie Garrido
1997 to May 2016- Coach Augie Garrido
For those of you
One of the only coaches who has won the CWS as a coach and appeared as a player.

9 Conference titles

2 National Champions ( 2002 and 2005)

8 Super Regional victories and 9 regional victories

HOH induction 2008

Winningest coach in the history of college baseball with 1900 plus victories

Earned National Coach of the Year honors 6 times

During his 46 year career he averaged 41 victories a year

In the summer of 2016, he was enshrined in the American Baseball Coaches Association Hall of Fame and in July 2016, he entered the National College Baseball Hall of Fame.

While at Texas, Garrido coached 27 All-Americans and 102 players who went on to play professionally.
He is the 13th Coach in Texas baseball history
Garrido Is One Of Only Two Coaches To Lead Multiple Colleges To A National Championship.
If you have not read Augie's Bio titled "Life is yours to win" you should. Like DKR Augie had many insightful comments. Some of his wisdom is shared below in the history of Augie Garrido years as a longhorn.
Coach had a different philosophy from most coaches in baseball . He believed that if the players mind was balanced then good baseball would follow. He taught the fundamentals of the game but focused on the players mental game. Without this balance of the two the players would have a tough time maximizing their abilities. In Augie's biography title Life Is Yours to Win he says "Fear and expectations can be crippling" mentally.
"Fear will strike it always does, the emotion takes you out of the moment and into our own head." The only way for a baseball player to stop a downward spiral is to quit pressing and return to playing the game. "Confidence overcomes fear but confidence is often fleeting while fear hangs on." The best way to control fear is to clear your head. Augie says we tell the players t9 "get outside of your head because that is where the competition is." Page Elizabeth Bauerkemper in her 2013 report titled Beyond Sports: A Guidebook for Potential Collegiate Female Student -Athletes agrees with Augie when she states "Changing the way athletes view pressure can change the way it is experienced."
On the other hand expectations serve someone else and motivate from the outside in. If you try to live to other people's expectations you are dealing with things you cannot control. Accomplishing personal realistic goals help build character from the inside out. Lessons learned playing baseball are transferable to life after baseball. Baseball "doesn't give us what we pray for. It doesn't give us what we wish for. It doesn't give us anything other than OPPORTUNITY, nothing more , nothing less, and that is enough. In fact it's a great gift." Life gives most people opportunities, but it is what you do with this gift that will define your destiny.
Coach Garrido said If both teams are equal in "superior athletic ability, knowledge of a games strategy , and master of its skills, success is usually claimed by those in command over the mental aspects of baseball" -fear and expectations.
Page Elizabeth Bauerkemper in her 2013 report titled Beyond Sports: A Guidebook for Potential Collegiate Female Student -Athletes agrees Augie's states "Changing the way athletes view pressure can change the way it is experienced." A criticism from a Coach should not be construed as a personal attack but a "motivation to do well".
Skip Johnson is the Associate Head Coach
Specializes in teaching pitching skills

In the 9 years with UT he has developed 10 Big 12 conference first team players and 9 All Americans.
Coach Tommy Nicholson is the recruiting coordinator
He played for Texas and is the most valuable player on the team in 1999 and 2000

His job responsibility is Head recruiter and coaching the infielders
1997- 29-22
Kip Harkrider earns All American honors
1998-23-32-1
In 1998 Catcher Brian Johnson During A One Week Span Hits 2- 400 Plus Feet Homers At UFCU Field.
1999- 36-26
Tommy Nicholson is named most valuable player on the Texas team.
Sean Braswell receives recognition as a Rhodes Scholars.
2000- 46-21
D.J. Jones wins the James Keller Sportsmanship Award.
Beau Hale is a GOLDEN SPIKES AWARD FINALIST
Charlie Thames is a All American.
Top rated song in 2000
2001- 36-26 pending
CWS 2001
2002 - 57-15 National Champions
The pitching staff on this Team Holds The Record For saves (23) During The Modern Era.
Augie Garrido is Coach of the year
This team holds the Texas record for most total bases (1,186).
Chris Carmichael comes off the bench after injuries and a disappointing season to put his name in the record book. In the CWS final game against South Carolina with two men on base, he his a homer on the biggest stage for college
Seth Johnson - All American and part of 4 trips to the CWS including the 2002 and 2005 national championships. HOH inductee
Huston Street gets the save in all 4 of the CWS games. He was the hero of the series but in February and March the pitching coach, Frank Anderson, was struggling to help Huston with his straight as a pencil fast ball that was too easy to hit. Coach Anderson said "The competitiveness was there, but his stuff wasn't moving enough."
"There wasn't much deception." I guess the coach managed to correct the problem.
Jeff Ontiveros holds the Texas career record for most games (260), most at bats (922), and most total bases (510) .
2003- 50-20
Runner up in the College World Series. The team loses to Cal State Fullerton
J. Brent Cox is an All American and NCBWA Stopper of the Year.
Dustin Majewski holds the Texas career record for the highest batting average (.395) and he makes the All American team.
2004- 58-15
In 2016, Coach Garrido told the Statesman that Huston Street was the best Longhorn he ever coached. "What might seem exceptional for one person was very normal for Huston............., Garrido said of Street, "His fearless approach to throwing to the mitt and trusting his teammates to do the rest — he came here with that."
Huston Street holds the Texas career record for most saves (41), he is a GOLDEN SPIKES AWARD FINALISTS, and an All American.
Justin Simmons holds the Texas career record for number of starts (66), and is an All American.
J.P. Howell is a CLEMENS AWARD FINALISTS and an All American.
2005- 56-16 National champions
Augie says that the 2005 team was special because they had confidence and enjoyed playing the game. This team found a "fabulous balance of competitive genius and boyish fun." This was Texas 4th straight appearance at the CWS.
All but one starter are all from the state of Texas. Pitchers McCulloch and Alaniz are chosen for the finals best 2 out of 3 with Florida. McCulloch says before the game ,"I was thinking about when I was a kid rooting for Texas teams--the football team in the fall and the baseball team in the College World Series." "With all the great tradition and history of the school, to be able to pitch for Texas in a championship game, that's unbelievably huge." "…… it is to wear the burnt orange. "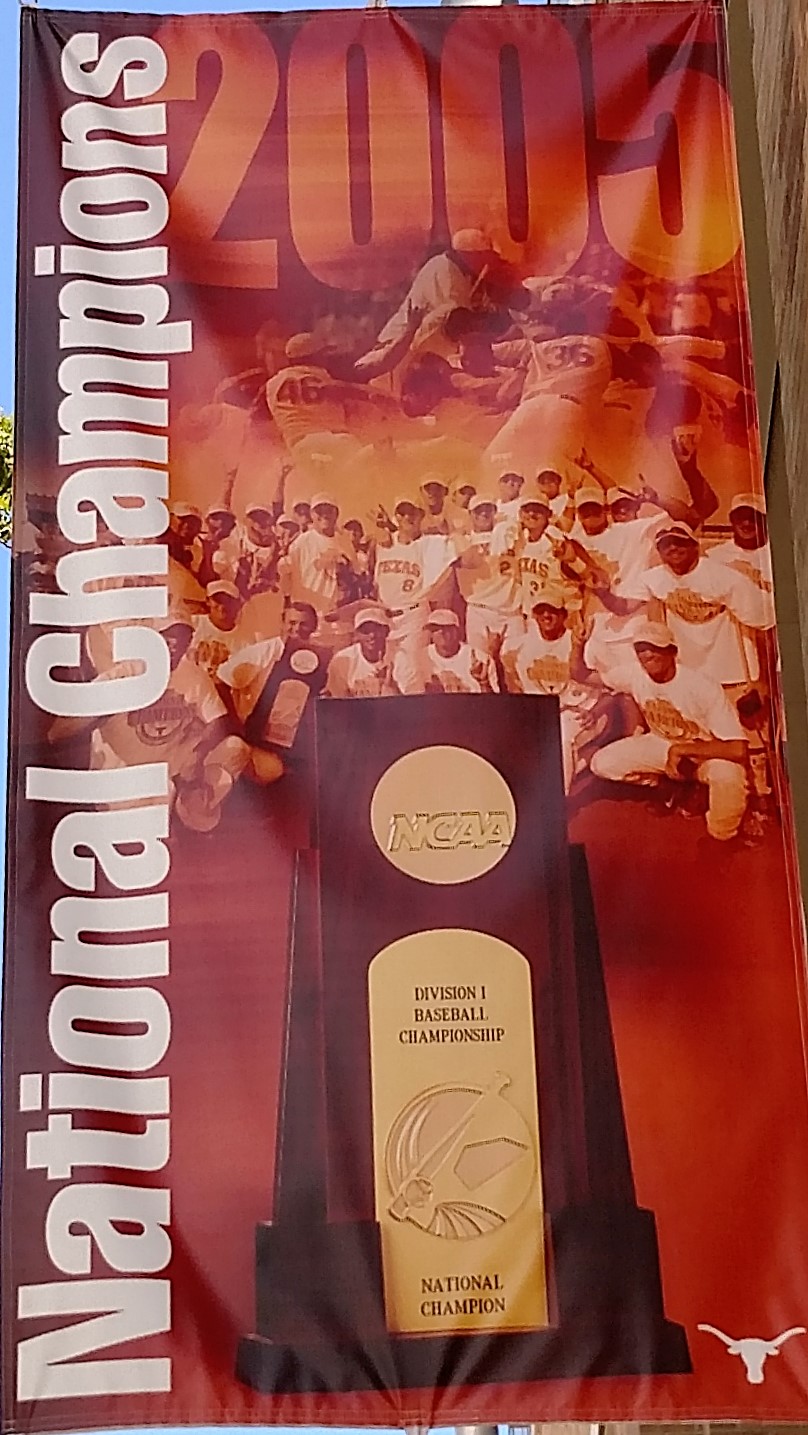 Tough road to the CWS. In regional play lost to Arkansas and Mississippi but fought back and won 5 elimination games to make it to the CWS.
Seth Johnston holds the Texas season record for @ Bats (304), and hits (115) in a season, and is an All American.
A special moment , a coaching decision, and a young player with a special spirit all make college football history. Chance Wheeless who suffered a shoulder injury the day before was scheduled as the lead off hitter in the bottom of the 9th against Baylor with the score tied 1-1. The Baylor team dominated the Horns during the regular season and Chance was hurt so Augie decided to send in a pinch hitter. Chance objected and convinced Augie that he knew the Baylor pitchers tendency better than anyone, and he could handle the shoulder pain. There was a collective moan from the fans and announcers when Wheeless stepped into the batters box. No one could believe that Augie decided to allow the injured Wheeless to lead off but with the count at 1-1 please view the following video to see what happened.
David Moroul was the 6th player from the Longhorns to win the College World Series Most Outstanding Player. The others are Tom Hamilton, Mickey Reichenbach, Calvin Schiraldi, Huston Street and J.L. Smith. Augie calls David a super hero because he was the weakest link on offense and the strongest link on defense who put on his superman cape for the CWS to bat .500 including 2 home runs, scoring 8 runs, commiting no fielding errors.
J. Brent Cox is an All American and the winner of the NCBWA STOPPER OF THE YEAR AWARD.
Augie Garrido is Coach of the year
2006- 41-21
Drew Stubbs is an Academic All American in 2005 and 2006 and a GOLDEN SPIKES AWARD FINALISTS in 2006.
Taylor Teagarden is a JOHNNY BENCH AWARD FINALISTS.
2007- 46-17
Brad Suttle is a Academic All American
Kyle Russel is an All American and GOLDEN SPIKES AWARD FINALISTS in 2007 and holds the career Texas record for home runs (57) and for the season (28)
2008- 39-22
NCAA limits full baseball scholarships on a team to 11/7. The Longhorn travelling team consist of 25 student athletes so more than half to the team players are on partial scholarships.
In 2008, Garrido was inducted into the Longhorn Hall of Honor,
Michael Torres sets game hitting streak record of 25 games.
The magical 2009 team - Runner up in the CWS but a champion in the hearts of fans with a 50-16-1 record
A team that started out as the Bad New Bears (not a compliment) morphed to what Augie says is his best "small ball" team ever. Ever member of the starting lineup had at least 6 sacrifice bunts. The players were unified in the strategy needed to win. Sports writers were confounded by the 2009 teams success. It was a team that did not win with averages and percentages but with a spiritual bond and a sensed of destiny. The team ranked 210th in home runs with a batting average that was next to last in the Big 12. This team only won the conference championship because the opposing team had a plane to catch . Augie says with humor that the Longhorns had discovered divine intervention from the "Church of Baseball " . This team did what they needed to do to win- "walk, sacrifice, homers, small ball, long ball, bunts, balks, and acts of nature" A team that was "offensively challenge" was winning on "pitching and magic". This team should be presented with the record for most "improbable wins".
May 30 2009 Boston College and UT played in the longest game in College baseball history. The game lasted 25 innings and 7 hours and 3 minutes. Austin Wood threw 13 scoreless innings in relief and the opposing team players stood and clapped for his performance.
Austin Woods breaks Harvie Haddix's record by throwing 13 perfect innings against Boston College but did not get a win to show for his effort. Wood left the game in the 20th inning after his 169th pitch.
Augie says that Travis Tucker is one of the best hitters and a true leader for the 2009 team.
According to Coach, Keith Shinaberry is a free spirit and a natural leader. He suggest to coach Garrido that his coaching style was too complicated and ask Coach to try and keep the game simpler. Coach Garrido did as instructed, and the team started to win.
Russell Moldenhauer is benched early in the season because of a batting slump and a injury. He is then promoted to clean up hitter during the CWS game against Southern Miss. He deliveres with 4 home runs during the CWS. Augie said this team of 2009 " not only defied explanations, they defied natural law."
Even though this team finished runner-up Coach Garrido knew this team would receive more adulation that most teams who lose. The Horn fans treated this team as the greatest non-champion of all time.
Bill Little said this team was loved because of "who they became , and the fact that they took us all along for the ride." "They were totally human , and absolutely fun" to watch.
2010- 50-13
Top of the chart
Horns were hot this year with a 46-8 record , but play with South in post season with the Horns losing to Tech , Missouri , Texas A & M and to TCU in the super regional.
This Team Holds The Record For most home runs (81) and most strike-outs (482).
Garrido says this team had the "best and deepest pitching corps we've ever been blessed to coach". So deep that they had to ask Chance Ruffin who was in the starting pitching rotation in 2009 with a 10-2 record to act as the "closer" in 2010. His father was also a Longhorn on the 1983 National Championship team.
2011- 49-19
All time Attendance record is set with 273,029 fans attending home games.
This team holds the Longhorn record for highest fielding percentage(.982), and most saves (23)
Taylor Jungmann
• Louisville Slugger NCAA Division I All-American - First Team
• Big 12 Pitcher of the Year (unanimous selection)
• All-Big 12 - First Team
• Phillips 66 Big 12 Baseball Championship All-Tournament Team
• Academic All-Big 12 Baseball First Team
Brandon Loy sets career Texas record with 56 sacrifice bunts
2012- 30-22 pending
2013 pending
Garrido is inducted into the Omaha College Baseball Hall of Fame.
2014- pending
The attendance records are broken for a two game series (14,846) against Houston, and a three game series (19,727) against TCU.
Coach Augie's Years at Cal State Fullerton the commuter college as told by kevin Costner
When Augie was hired at Cal State Fullerton he had no scholarship to offer , no lights on the field, and no locker room. The players changed to baseball gear in the parking lot. Budget was $4000 and raised to $6000 when Cal moved to Division I . His second season the team made it to regionals but Cal had no money so he placed a second mortgage on his home to fund it.
Kevin Costner cast Augie as the NYY manager in the movie "For Love of the Game" .
Augie Garrido- "Pressure is a choice"
Augie left a legacy of wins, laughter, and leadership. Mack Brown said "He really made you think, made you laugh, and always was so much fun to be around....."
In his early years Augie said "I was driven to succeed by a fear of losing his job. He said that "only the best at anything are assured a job" and that is "what drove me — trying to be the best I could be, and I still am driven by that." Augie said "When I did sign the two-year extension (after the 2014 season with Texas), I went up to the cemetery where my mom and dad are buried. I knocked on his tombstone and said "Dad, when I finish this contract I'll be 79 years old. I think I kept my job."
Professional Testimonies
Mike Martin, who coaches the Seminoles said "College baseball and the world lost one of the finest men in our coaching profession," "Augie dedicated his life to making young men better people. He will be deeply missed by myself and many others."
Rick Barnes said " I loved him more as a man than I did as a baseball coach. We lost truly a beautiful personality......." When Coach Barnes was struggling with his team, Augie helped Coach Barnes with perspective needed related to personal focus and dealing with pressure. Coach Garrido told Barnes that after winning the National Championship at Fullerton the "... next year, he put so much pressure on his team" that his mom got involved. She had a picture, and said, "you notice when your guys won the championship, you're holding the trophy. Why don't you let the kids hold it." Augie said, "'I realized that day that it really is not about me." The true key to success in college coaching is " can you get your guys to play like little boys that love the game.'" In 2009 he reflected on his change in attitude by saying "I am a teacher by nature, but I am no better or more important than the kindergarten teacher or the high school coach."
Shaka Smart said "Augie was a mentor of mine during my first couple years at Texas....." "I knew Augie really well. He kind of took me under his wing when I first got to Texas. He came over to practice. A lot of people don't know this, but Augie is a basketball guy. Augie played basketball. That was kind of his first love."
Rice coach Wayne Graham said : "It is a sad time because I don't think anyone did more for college baseball and baseball in general than Augie Garrido. He knew the particulars of the game better than anyone."
He cultivated Oregon head coach George Horton, who has won more than 1,000 games, Fullerton head coach Rick Vanderhook, and Skip Johnson at Oklahoma. As assistant coaches he influenced Arizona recruiting coordinator Sergio Brown and Stanford's Tommy Nicholson.
He was even friends with Kevin Costner and had a role in "For Love of the Game" as the Yankees manager. Garrido was also the subject of Richard Linklater's ESPN documentary "Inning by Inning: Portrait of a Coach" and hosted "Home Plate with Augie Garrido," a cooking show on the Longhorn Network.
Augie Garrido was a great teacher and shared his small-ball philosophy with anyone who would listen
Garrido says in his biography he loves home runs, no hitters, and spectacular fielding, but he knows that most games are won by "small ball"- getting ahead of the count, taking a walk, sacrifice bunting , making productive outs, and choosing the proper pitch for the proper moment..
Biggest Regret
The players I let down. The players that had lesser roles who needed more from me and I didn't know it.
Coach Garrido's contributions to Longhorn traditions represents a portal to the past that remind Longhorn fans that heritage shapes the present and empowers the future.
Augie quotes from his autobiography
To self-correct, you have to self-assess.
Fears are feelings , not facts. You can refuse to give them power.
Parents of young kids mean well but sometimes parents live vicariously thru their children and put undue pressure on them to succeed. The result too often is that the young men never develop the self-confidence and self-respect necessary to guide their own lives. " The worse thing parents can do is withdraw their love if the child doesn't meet athletic expectations."
Augie wisely notes that as we grow into imperfect men ourselves, we appreciate our fathers even more because we better understand them and the challenges they faced.
It is important to play baseball like a kid caught up in the game.
"We will strive for perfection, but you will fail". It takes courage to keep striving after you fail.
If you spend your life seeking approval or rewards from others- whether it is love or their acceptance- you will never find the fulfillment that comes from accepting and loving yourself.
Stay in the Moment and focus on fundamentals
Rather than following in our fathers' footsteps, we chased their dreams.
We have found that most of the learning that takes place in both life and baseball occurs when there has been a failure.
In baseball and life "homers get all the glory , but bunting is the essence " of all.
We tend to accrue limits as we age, either because we put limitations on ourselves or we accept those placed upon us by others. People who can blast thru these limits are a rare breed.