THE NAVIGATION TOOLS TO THE CONTENT OF THE WEB SITE ARE AT THE TOP OF THIS SCREEN. THE SITES ARE "QUE" , "FANs", "TLSN", "SPORTS", "ARTICLES", "ICONIC", "MISSIONS", "LOST TOO SOON", "SENTRY", AND "DONATE".
Norris Athletic Trophy was an annual award given to the best Longhorn athlete during the late 1920's to the middle 1930's. Ed Olle , Ox Higgins, Tommy Hughes , Nona Rees, and Ox Emerson were winners of this trophy presented by the Norris Candy company. In later years Ed Olle coached the basketball team, acted as business manager for the athletic department, was a football official, and one of the best football scouts in the country. The "Cactus" says that Ed was an authority on the fundamentals of all sports
To qualify for this award prospective recipient must pass 70 per cent of his scholastic work during the year;

Three candidates each year were chosen by the "T" Association and sanctioned by the chairman of the Athletic Council.

The three candidates are placed on the ballot and the winner receives the most votes.
1933
Looking for images of the other winners of the Norris Trophy.
1934
Heisman Trophy
Most Outstanding Player
Earl Campbell – 1977
Ricky Williams – 1998
When Earl Campbell showed up out of shape for training camp and could not complete a mile run, a reporter asked the Houston Oilers coach what he was going to do about? Bum Phillips said "when it's 3rd and a mile we won't run him"!
Maxwell Award
Best Football Player
Walter Camp Award
Player of the Year
Chic Harley Award
College Football Player of the Year
Archie Griffin Award
Most Valuable Player
AT&T ESPN All-America Player
Fans Most Valuable Player
AP Player of the Year
Most Outstanding Player
SN Player of the Year
Top Collegiate Football Player
UPI Player of the Year
NCAA Coaches Player of the Year
Freshman of the Year
Top Quarterback
University honors
Retired Jersey Numbers
University Honor
Bobby Layne (#22) – 1944–1947
Tommy Nobis (#60) – 1963–1965
Earl Campbell (#20) – 1974–1977
Ricky Williams (#34) – 1995–1998
Vince Young (#10) – 2003–2005
Colt McCoy (#12) – 2006–2009
Offensive honors
Doak Walker Award
Best Running Back
Jim Brown Trophy
Top Running Back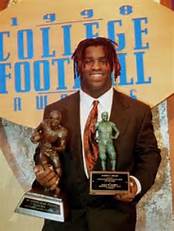 Jim Brown Trophy- Ricky Williams
Paul Warfield Trophy
Top Wide Receiver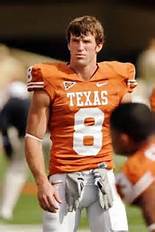 Paul Warfield Trophy- Jordan Shipley
Jordan Shipley – 2009
Davey O'Brien Award
Best Quarterback
Johnny Unitas Golden Arm Award
Outstanding Senior Quarterback
Manning Award
Best Quarterback
Quarterback of the Year
Top Quarterback
Coaching Honors
AFCA Award
Coach of the Year
Grantland Rice Award - DKR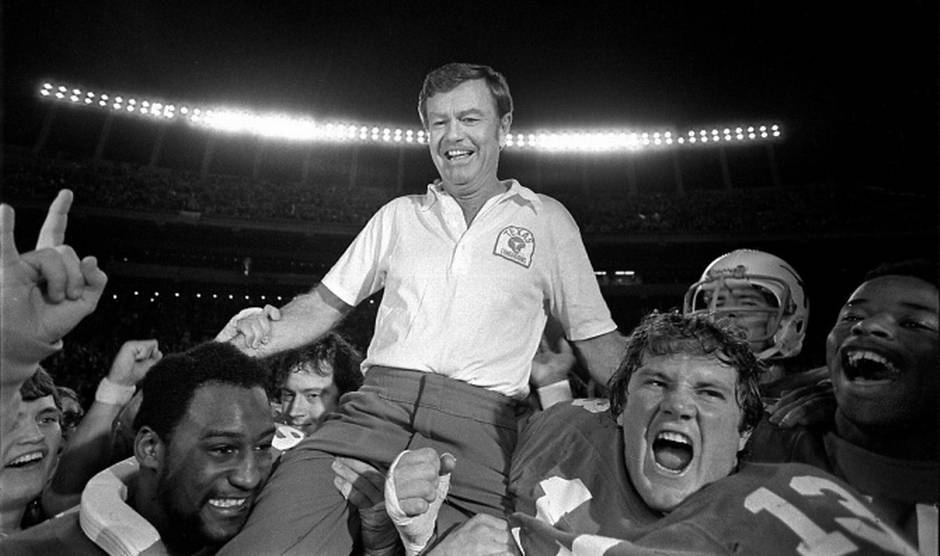 Eddie Robinson
Coach
of the Year
1961 and
1963
SN National Coach of the Year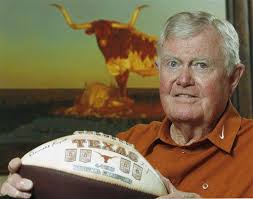 1963 and 1969
Coach of The
Year Award
Paul "Bear" Bryant Award
Coach of the Year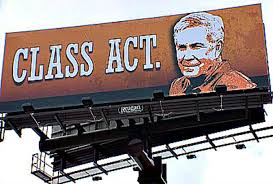 Paul "Bear" Bryant Award for Coach of the Year
Bobby Dodd Award
Coach of the Year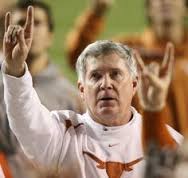 Bobby Dodd Coach of
the Year Award 2008
Broyless Award
Best Assistant Coach
AFCA Award
Assistant Coach of the Year
Defensive honors
Lombardi Award
Best Defensive Player
Nagurski Trophy
Top Defensive Player
OutLand Trophy
Top Interior Lineman
Dick Butkus Award
Best Linebacker
Jack Lambert Trophy
Top Linebacker
Jim Thorpe Award
Top Defensive Back
Jim Thorpe Award
Top Defensive Back
Ted Hendricks Award
Top Defensive End
Bill Willis Trophy
Top Defensive Lineman
Brian Orakpo- 2008
UPI Lineman of the Year
Other honors
Draddy Trophy(Academic Heisman)
Best On and Off Field Performance
Nils v. "Swede' Nelson Awards
Best Sportsmanship
Pat Culpepper 1962
Wuerffel Trophy
Athletics, Academics, & Community Service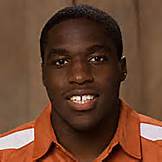 Today's Top VIII Award
Outstanding Senior Student-Athletes
Kenneth Sims-1982
Amos Alonzo Stagg Award
Outstanding Service for College Football
Disney Spirit Award
College Football's Most Inspirational Figure
College Football Hall of Fame by induction date
Texas Sports Hall of Fame
Below is a list of the top 25 running backs in Texas football history, ranked by all-time rushing total:
Ricky Williams – 6,279 yards, 72 touchdowns

Cedric Benson – 5,540 yards, 64 touchdowns

Earl Campbell – 4,443 yards, 40 touchdowns

Jamaal Charles – 3,328 yards, 36 touchdowns

Chris Gilbert – 3,231 yards, 28 touchdowns

Vince Young – 3,127 yards, 37 touchdowns

Roosevelt Leaks – 2,923 yards, 26 touchdowns

A.J. Jones – 2,874 yards, 27 touchdowns

D'Onta Foreman – 2,782 yards, 20 touchdowns

Malcolm Brown – 2,678 yards, 24 touchdowns

Eric Metcalf – 2,661 yards, 23 touchdowns

Jonathan Gray – 2,607 yards, 17 touchdowns

Hodges Mitchell – 2,572 yards, 19 touchdowns

Adrian Walker – 2,473 yards, 17 touchdowns

Phil Brown – 2,102 yards, 16 touchdowns

Darron Norris – 2,079 yards, 12 touchdowns

Marty Akins – 1,963 yards, 26 touchdowns

Jim Bertelsen – 1,770 yards, 20 touchdowns

Shon Mitchell – 1,725 yards, 14 touchdowns

Selvin Young – 1,713 yards, 25 touchdowns

John Walker – 1,641 yards, 17 touchdowns

Darryl Clark – 1,604 yards, 3 touchdowns

Colt McCoy – 1,571 yards, 20 touchdowns

Cody Johnson – 1,455 yards, 36 touchdowns

Donnie Little – 1,306 yards, 11 touchdowns