THE NAVIGATION TOOLS TO THE CONTENT OF THE WEB SITE ARE AT THE TOP OF THIS SCREEN. THE SITES ARE "QUE" , "FANS", "TLSN", "SPORTS", "ARTICLES", "ICONIC", "MISSIONS", "LOST TOO SOON", "SENTRY", AND "DONATE".
Click on red font text in the panel to the left for more information on the TLSN mission
My first Journey up Lost Mine Trail In Big Bend National Park occurred in April 1966 followed by another climb in April 2016. the epiphany I experienced 50 years after my initial ascent has changed me forever. The photos below represent a chronological snapshot of special moments in my life from 1965 through 2016.
Each of us has special moments in life that forever change us. One of those moments for me was in 1966 when my parents allowed me to climb the Lost Mine Trail in Big Bend National Park without adult supervision. In retrospect , it was an important moment in my journey to adulthood.
In 2006 I was stricken with a non-life threatening disease that for 9 years sapped me of my energy and appetite. By January of 2015 I was left with only one surgical option for recovery. If the surgery was unsuccessful, there were no other medical options available to enhance my quality of life. Fortunately, the surgery was a success!
Now in good health, a song by Tim McGraw titled "Live Like You are Dying" changed my vision of who I am into who I should be. After a year of rehabilitation, I was ready to test my return to good health and ascend Lost Mine Trail 50 years after my first ascent was the challenge. The round trip hike is listed at 3 hours. In 1966 I ran most of the way and completed the ascent and descent in two hours. In 2016 the trip took 5 hours with many stops in which I was bent over hands to knees.
This anniversary adventure began at 5:00 A.M. on April 3rd, 2016 with a drive to Fort Davis to see Glen Halsell - a friend since the 8th grade. Glen was an All American and Captain of both the 1965 State High School Champion Permian Panthers and the 1969 National Champion Texas Longhorns. During our visit, we shared a few stories and then said goodbye with a hug that reflected our mutual respect, common bond, and shared experiences. As we parted ways my belief that life has little meaning without family and friends was re-confirmed.
Two hours later at 1:15 P.M. I started my journey up the Lost Mine Trail. I use the word "journey" because this hike included some unexpected symbolic overtones that forever changed my perspective of life.
3 hours into the ascent and 15 minutes from the top a 14-year-old boy ran passed me. I said to him in jest "'hey slow down- don't you know you are in a school zone?" He smiled at me, and he said "I want to see how fast I can run the circuit." I smiled at him and said "50 years ago I completed the round trip in two hours.". He was oblivious to my comment, but as I watched him continue his climb I shed a few tears of joy remembering my special running ascent 50 years ago.
When I reached the top, the young boy was sitting on a rock.
I asked him what happened to his race against time? He said "I decided to enjoy the view and to wait for my mom and dad and to share this moment with them." We spent 30 minutes talking to each other, and the more we talked the more impressed I was with his maturity. When his family arrived he climbed down from the rock to greet them, and I took the opportunity to ask him to take my picture.
Summit April 3rd 2016 50 year anniversary of my first climb in 1966 when I was 6 years of age. A moment of reflection about my life journey.
While you see my image, you can't see the epiphany that touch my soul as the camera clicked.
It was a "stop and smell the roses" moment. For a split second, I saw the world thru his eyes -not mine- and I was full of hope and optimism for the future. This young boy started the day in a race against time, but decided to end the day by preserving a special moment with loved ones. A choice of family over personal goals is an important decision for an adult to make but to witness this 14 year old boy's decision encouraged me to continue to see life thru his eyes.
I started up the mountain to complete a personal challenge, but I walked down the mountain with more altruistic goals. A passion to deliver this young boys message of love, family, and hope for the future.
The Lost Mine trail once again has impacted my life. In 1966 it was my pathway to adulthood, and in 2016 it was my pathway to enlightenment.
Billy Dale – proud member of the 1967 football recruiting class at the University of Texas.
And finally a new journey in retirement to finish the 4th quarter of life. Giving back all the blessings I have received.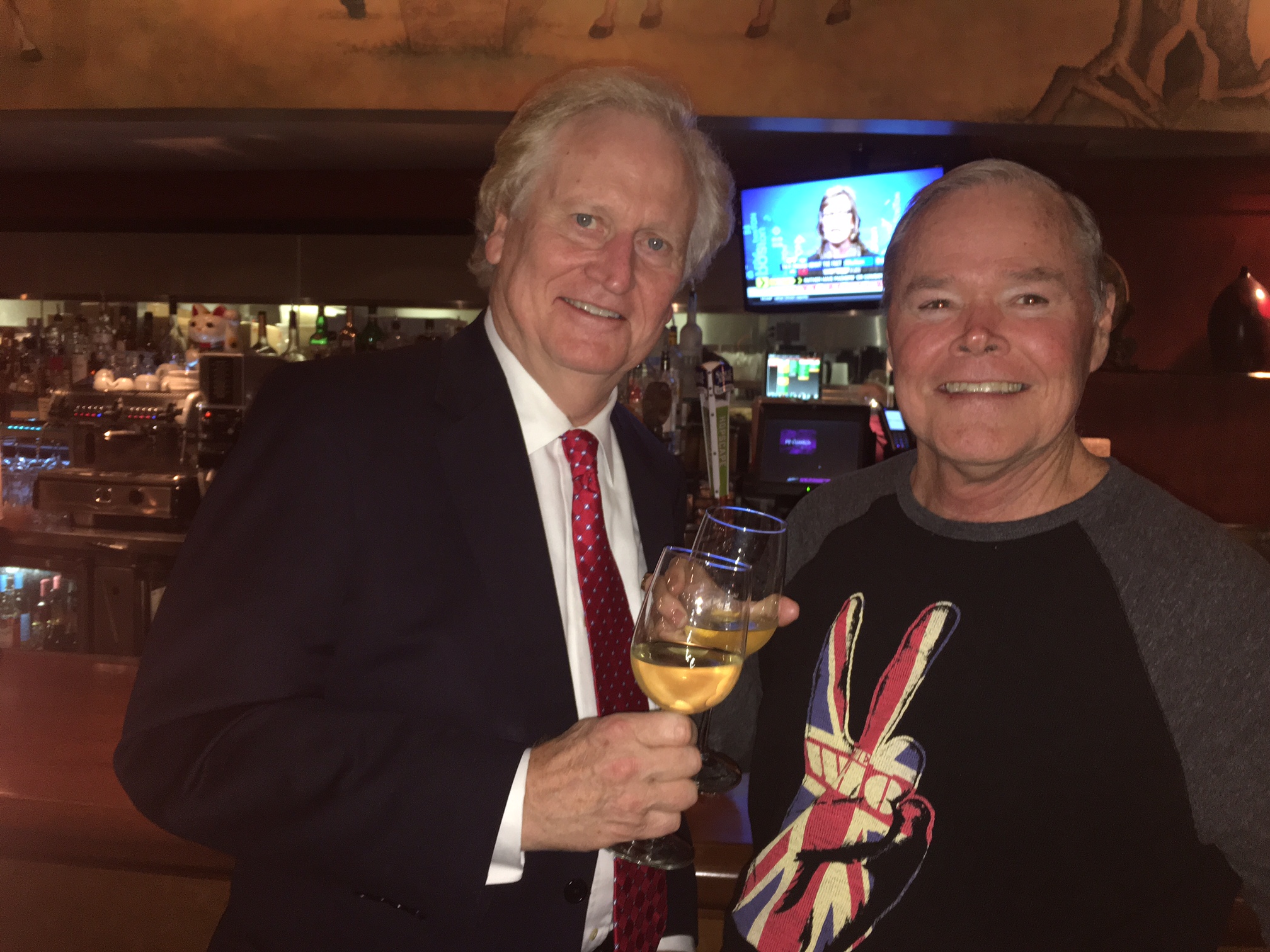 November 2017 Chairman Benny Pace and CEO and President Billy Dale toasting the completion process of the TLSN 501 (C) (3). TLSN mission is to both charitable and historical. Texas Legacy Support Network is building a bridge from the past to support the the present and inspire the future of our Great University. Horns Up!