THE NAVIGATION TOOLS TO THE CONTENT OF THE WEB SITE ARE AT THE TOP OF THIS SCREEN. THE SITES ARE "QUE" , "FANS", "TLSN", "SPORTS", "ARTICLES", "ICONIC", "MISSIONS", "LOST TOO SOON", "SENTRY", AND "DONATE".
Other parts of U.T. Football history are denoted in the panel to the left in a red font.
COACH JOHN MACKOVIC "Winds of Change" 1993 Cactus
1992-1997
The Cactus starts off the Mackovic years by saying he is "a kind, caring, and open-minded man……" with "a charisma that will be a legend in itself."
The 1992 and 1993 Cactus built up Mackovic as the best coach since Royal. Mackovic came from the University of Illinois. Before Illinois he was an assistant at Army, Purdue, and the Dallas Cowboys and head coach of the Kansas City Chiefs. He was recipient of numerous awards , including Big Ten Coach of the Year in 1988 and 1989, honorary member to the Golden Key National Honor Society, and four Coach of the Year awards in 1979. According to the Cactus "Mackovic earned praise and respect from all corners of the game. Coach Tom Landry said "Texas will benefit tremendously from" hiring Mackovic. Iowa head coach Hayden Fry said "his teams feature sound fundamental principles and an entertaining style of play. I'm sure he will do an outstanding job at Texas." The Cactus says he brought " a wealth of knowledge with him to the position reaching back to his experience as quarterback at Wake Forest where he led the ACC in total offense. His knowledge would change Texas from a running team to a passing team, and he conceded that such a "change is is always different" (difficult) .
A condensed bullet point history of Texas Longhorn football during the Mackovic years follows. A reflection of Mackovic's years at Texas is presented at the end of this article. Please either visit the "credit" section of this website to view books available for purchase from many fine book stores or visit the official University of Texas Longhorn site Texassports.com.
The Cactus, Tom Landry, and Hayden Fry were all wrong about Mackovic. Kiki DeAyala (Longhorn football player from 1980- 1982) was right. Kiki played for Mackovic at Kansas City and told anyone who would listen that the players at Kansas City did not want to play for him.
While the "Winds of Change" during the Mackovic years resulted in some exciting wins and championships, his years as coach ends in one of the worst losses in the history of UT football. UT football expectations had fallen so far that Jason Atchley, an author for the "Cactus" , celebrated Mackovic's 6-5 record his first year with accolades. He said after " the lost to the Aggies" the Horns finished the season with a "respectable" 6-5 record. Huh?
In the book Runnin' with the Big Dogs the author states that Mackovic's coaching failures are due to "death by personality".
1992 6-5 Coach Mackovic offense is ranked 20th in the nation

Coach Mackovic re-hired Leon Fuller from the McWilliams staff. Coach Leon Fuller developed a highly-effective defensive structure under Akers and McWilliams.
During Coach Mackovic years at Texas he concentrates mainly on recruiting receivers, quarterbacks, and backs such as Shea Morenz, Mike Adams, Lovell Pinkey, and Ricky Williams.
Mike Adams holds the career record for total return yards on kickoff/punts (2,651 yards) and most returns (160). He ranks 3rd behind Ricky Williams and Cedric Benson for most all purpose yards.
The 1992 team holds the season record for most yards per play (7.4).
This season is average even though Mackovic inherits 20 seniors on the team that has 4 team members drafted into the NFL.
This year if the Horns beat the Aggies the team was promised an invitation to play in the John Hancock Bowl. Since they lost and the NCAA rules state that a bowl participant must win 6 games against Division I games Texas is precluded them from a bowl appearance. Texas only had 5 wins against Division I teams.
Mackovic says of Peter Gardere " I don't know anybody who earned as much respect from his teammates and coaches this year as he did".
The second Century of Texas football is about to begin with Mackovic in charge.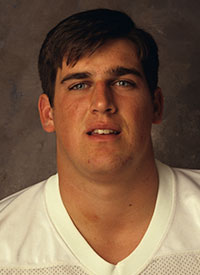 Blake Brockermeyer All American and Hall of Honor Inductee
Hilarious attempt by former Aggie Coach Jackie Sherrill who morphed into the Mississippi State Head Coach's Desperate attempt to beat the Longhorns.
In order to motivate his football players at Mississippi State to beat Texas, Jackie Sherrill has his team view a bull castration. MSU administration condemns this technique of "motivation" and Sherrill apologizes.
1993 5-5-1 PENDING Coach Mackovic
This year the Longhorn administration fought to protect the images , words, names, and symbols that distinguish UT from other Universities. Other teams were infringing on UT images by adding remarks to the images that diminished the UT brand.
Texas and Arkansas football series was close in the 60's but overall the series was not even close. The series ends with Texas leading 46-14 with The Razorbacks unable to win at the most painful moments. A 15-14 victory settled the national championship in favor of the Longhorns in 1969.
This was the end of the the SWC. 4 teams from the SWC join the Big 8 to form the Big 12. Those teams are Texas, Texas A & M, Texas Tech, and Baylor. More money from T.V. rights is the main reason for the realignment. There is a core change in recruiting for members of the Big 8 that requires them to recruit based on the SWC Proposition 48 standards. Unlike the Big 8 , the SWC did not accept recruits with a high school GPA below 2.0 and a SAT score below 700.
1994 8-4 Coach Mackovic final ranking #25
The team loses 4 out of 6 games in the mid stretch of the season but they recover to beat North Carolina in the Sun Bowl.
In the 5th game of the season Shea Morenz suffers a knee injury and James Brown takes over and is the starter for the OU game. Texas won that game by completing 17 of 22 passes and rushed for 51 yards. Shea Morenz remained as the starter but was hurt in the Texas A & M game and Brown had a great game in a losing cause.
Rice beats Texas for the first time since 1965.
Shea Morenz is hurt and James Brown starts the OU game. Texas wins 17-10 after Stonie Clark, the 6-foot-1, 343 pound nose tackle Crush's running back James Allen at the goal line with 43 seconds to play.
Shea Morenz is drafted in the first round by Yankees and accepts the offer.
Phil Dawson holds the career record for field goal attempts (79); and most field goals made (59).
Chris Carter holds the career record for most return yards (261).
Mackovic beats Mack Brown's North Carolina team in the Sun Bowl. This is Texas first bowl victory in 13 years.
1995 10-2-1 Coach Mackovic ranked 9th nationally- SWC Champions

Final ranking 14th nationally
Last game on Astro Turf: Texas 21, Baylor 13 (11/23/1995) Attendance: 58,497
#16 Texas 10, #14 Virginia 28 Sugar bowl loss

Phil Dawson is the first Longhorn place-kicker to win a game on the final play to beat Virginia, 17-16. This is the first time Longhorn history that the Horns win at home on the final play and the second time on record that UT wins a game as time expired. The Longhorns' final series was loaded with exciting plays. A 4th and one conversion by Wayne McGarity. A 4th and 10 pass completion from James Brown to Mike Adams and a James Brown gain of 11 yards with only 10 seconds remaining . Browns run gets Dawson into field goal range and the game winning field goal follows putting Dawson in the record books.
Bryant Westbrook 2nd team All-American, two time Big 12 All conference
Texas wins the SWC championship with a scholarship player who has no college eligibility. Ron McKelvey (Ron Weaver) plays in 11 games at Texas. His mother and father do not know he is on the Texas team. Federal prosecutors charge Ron with "fraudulent misrepresentation" and misuse of a social security number. The result- no NCAA infraction for Texas and Ron reimburses Texas $5000 for the cost of the scholarship.
Texas breaks A & M's 31 game home winning streak.
After 80 years the SWC is dissolved.
Backstabbing, cheating, and open pocket books, starting in the 80's reaches it's zenith in the 1990's and destroys the SWC . Other factors were also responsible for the demise of the SWC:
Arkansas's joining the Southeastern Conference;

Private schools no longer able to compete financially with state schools;

too many Division I teams in one state to support a strong fan base for all Texas Universities;

the SWC was too regional in scope for national exposure;

The Cotton Bowl contractual obligation to feature the SWC winner against another ranked team became an anchor around the neck of the Bowl committee. At best the play of the SWC teams was mediocre.



Ricky Williams is a Freshman
James Brown and senior wideout Mike Adams are the most dangerous passing
combination in school history as of 1995 and Brown is the the SWC's offensive MVP
with 2,583 total yards and 20 touchdowns. When James Brown got hurt Shon Mitchell and Ricky Williams carried the burden of winning. Williams had had an immediate impact at Texas, running for a Longhorns freshman record of 990 rushing yards.
1996 8-5 Coach Mackovic big 12 champs
Texas has their first preseason top 10 ranking since 1984, but it want last long. The team recovers after losing 4 of the first 7 games , they recovered but lost to Penn in the Fiesta bowl 38-15.
Less than a decade after UT declines to rename the stadium after D.X. Bible, the stadium is renamed after DKR. First game at DKR-Texas Memorial Stadium: Texas 40, Missouri 10 (8/31/1996) Attendance: 70,613.


Pat Fitzgerald holds the Longhorn season record for touchdown receptions (8) for a tight end.
Texas's multifaceted offense exploded for a school-record 5,525 total yards in 1996, led by Williams, record-setting quarterback James Brown and a pair of seniors, All-Big 12 wide
receiver Mike Adams and All-America tight end Pat Fitzgerald. Despite Williams & Co.'s impressive statistics, the defense allowed 10 players to gain over 100 yards rushing . Texas rushing defense was ranked 86th in the nation.


TOP SONG
Final ranking 23rd nationally
Texas is a 21 point underdog to Nebraska when James Brown says to the media "I don't know.... I think we're going to win by three touchdowns." His comment inflames the Nebraska players and fans, but James confidence also inspires the UT football team . "Roll Left"- The play that won the game in the last minutes of the 4th quarter is now part of Texas football history . Brown connects with Derrick Lewis to help win the game. Texas 37 Nebraska 27
In a Sports Illustrated article written by Tim Layden he says that "Texas coach John Mackovic, a taciturn man who had spent four years in Austin under the blade
of a guillotine, eschewed a punt and told Brown, his junior quarterback, to run Steelers Roll Left. Mackovic took all the chips in front of him--the game, the season, his fragile
reputation--and shoved them into the middle of the table, all of it riding on one snap.
On Steelers Roll Left, Brown reverse-pivots, fakes a handoff to fullback Priest Holmes into the middle and then sprints outside to his left, on a pass-run option. Texas had practiced this play repeatedly leading up to the game, and Mackovic had belabored
Brown about the importance of tearing flat out to the corner, lest the relentless Nebraska pursuit run him down from behind. "Come to run!" the coach shouted as Brown jogged back to the huddle, a final reminder not necessarily to keep the ball and
run with it, but to haul his tail to the outside in a big hurry before choosing. Brown, however, interpreted it this way: "He wanted me to run it."
On the play Brown kept his eyes up the field and saw tight end Derek Lewis standing alone. Brown's soft toss found Lewis 15 yards clear of the Nebraska defense at the Texas 42. Holding the ball as if it were plutonium, Lewis rolled to the Nebraska 11, finishing a 61-yard play. On the next down Holmes shot through the middle for the finishing touchdown in the 37-27 win.
The Texas win over Nebraska is voted the most stunning upset of the 1990's .
Priest Holmes and Ricky Williams represent one of the greatest backfields in the History of college football.
The Longhorns defeat Texas Tech and claim the Chancellor's Spurs trophy for the first time.
1997 4-7 John Mackovic- UCLa embarrass's Texas Worse record since 1956.
Mackovic switches the defense from a 3-4 alignment to a 4-3 trying to slow down the Big 12 offenses. The defensive line include Chris Akins a 300-pound tackle who holds all of Texas's major strength records. This is one of the strongest teams in the history of Longhorn football but as the team learns strength does not necessarily convert to wins. In 1995 Texas had 10 players squat over 550 pounds and 15 players record a vertical jump of 32 inches or more. Texas record is 10-2-1. In 1997 Texas has 15 players squat more than 550 pounds and 21 players jump 32 inches or higher. The team finishes 4 -7.
Moral of the story- weight training and conditioning are an important adjunct to winning not the key to winning.
Also anchoring the defense are Casey Hampton and Aaron Humphrey at middle linebacker.
The wheels come off the football program and Longhorn fans and the donor class of Texas finally have had enough.

Field named for longtime UT benefactor Joe Jamail (Joe Jamail Field at Darrell K Royal-Texas Memorial Stadium):
1997 Last game prior to track removal: Texas 26, Texas A&M 24 (11/27/1998) Attendance: 83,687

Tackle Chris Atkins Breaks Nearly All Of The Longhorn Lifting Records. Atkins records include The Squat (760 pounds), Bench (556), And Power Clean( 363 pounds) (No Picture)
Wayne McGarity Holds The Career Record For Yards Per Touchdown (40.3)
Ricky Williams Breaks Earl Campbell's Single Season Rushing Mark And Is The First Texas Player To Gain 200+ Yards In Consecutive Games. Scores 25 touchdowns and runs for 200 yards in 4 other games with 4 runs of over 70 yards.
Applewhite commits to A & M but Aggie Head Coach Slocum fires the offensive coordinator so Applewhite changes his commitment to Texas.
Texas is a 22 point favorite to win the OU game but loses in overtime.
UCLA embarrass's UT and the defeat is tagged as "Rout 66".
REFLECTIONS
Mackovic is typecast as the wise outsider who can re-establish the Longhorn winning traditions
Mackovic had a history of micro-managing teams. Coach Greg Davis states in the book Burnt Orange Nation that Mackovic was "plagued by an inability to relate to football culture....." , or "relate especially well with players, and he definitely didn't fit in with the Good Ol' Boys who funded the Texas football machine."
Even Kiki DeAyala (Longhorn football player from 1980- 1982) who played for Mackovic at Kansas City told anyone who would listen that the players at Kansas City did not want to play for him.
No one listened and Coach Mackovic was hired. His tenure was not a total disaster. He won Three straight league crowns, recruited Ricky Williams ,but overall Texas football was shaken to its core under Mackovic. In 1997 Texas was embarrassed by UCLA and the team had its worse season in 50 years.
Mack Brown replaced John Mackovic. At the time of Mack's hiring very few people knew anything about him. However, fans quickly realized that Mack Brown was perfect for Texas. Mack Brown knew how to win "by personality". He delegated authority, related to recruits and players, and "communicated" with the Good Ol' Boys who funded Texas football.
John Mackovic's weakness's also plagued him after Texas. As the head coach at the University of Arizona from 2001-2003 he failed to understand the local football culture, he did not relate to the players, and he did not fit in with the good ol' money Boys from the University of Arizona.
Coach Mackovic's downfall at UA began early after he tells Justin Lavasseur an Arizona player "he was a disgrace to his family." Mackovic continued to make disparaging remarks to other players which resulted in 40 players meeting in secret with the President of the University of Arizona to protest the verbal abuse administered by Coach Mackovic. Mackovic apologized to the players, the university, and the fans and he was not fired. But One year later quarterback Nic Costa states publicly that many players have lost their love for the game due to Mackovic's brusque manner. 5 games later Mackovic is fired.
A personal reflection from Billy Dale - 7 years into Mack Browns reign as Head Coach, I had lunch with Coach Royal and the conversation focused on football in the 60's. In the middle of this discussion Coach Royal's stops in mid-sentence and says "You know we could still be looking for a head coach at Texas and never find another Mack Brown." No truer words have ever been spoken.
The Mack Brown era is about to start.