Jim Blaylock was DKR's personal hire as equipment manager. A position so economically important to the survival of UT Athletics that Jim was housed behind a bank teller type of cage so no one had access to equipment accept Jim.
Billy Schott's says I once summoned up the nerve and asked Mr. Jim for a "new" pair of socks because I could read a newspaper through the heels of the ones I had been issued a couple of seasons before. He made some sort of growling, guttural sound, held the socks up to the light, threw one back to me and grabbed another from a box below the window and shoved it toward me. It was worse than the one he kept. Had to pay a visit to Rooster and stock up on a few new pairs....😜
Billy Dale was more afraid of Jim then Coach Royal. Billy says "It took all the courage I could muster to ask for a new jock strap after my"support" was down to its last thread. I thought for a moment he was going to reject my request, but after carefully analyzing my support device he acquiesced.
On the other hand, Juan Conde says that Mr. Blaylock was all right. Juan says I was his assistant equipment manager for many years and he was perhaps abrupt and taciturn in manner, but in reality, he was an affable person once you got to know him. Juan says "Billy Schott you were only one of many players who experienced his gruff mannerism. I vividly recall when Bill Stolhandske asked Mr. Jim for new 'equipment" and what ensued afterwards. But that's another story for another time."
Barbara Wainscott says her husband Loyd loved Mr. Blaylock! He must have been a pet, I guess, because he would always trade out old, ratty equipment for better stuff for him...as his eyes darted around and he pushed it downward, as if to say "This is our little secret". After we were married in January of '69 we came in from classes after lunch and decided to take an afternoon nap. I woke up before Loyd and was just lying there watching him and trying not to wake him up. All of a sudden he partially smiled and then smiled really big in his sleep and then opened his eyes. I asked him what had made him so happy to cause him to do that. He said he was dreaming of Mr. Blaylock. When I asked him what he was doing he said he was handing him his helmet for him to keep. It's the helmet in the Bevo Museum.
Jeff Crozier said "I agree with Juan, I never saw Mr. Jim get upset but It took me two years to call him Mr. Jim, even though everyone in the locker room called him by that name. I called him Mr. Blaylock just in case."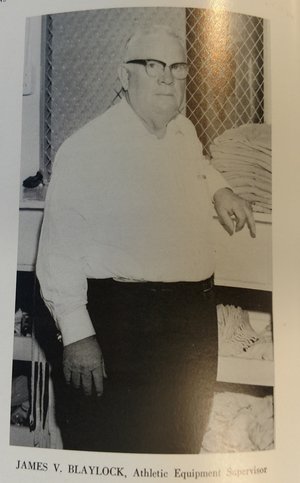 God rest his soul. Jim Blaylock did his job, and he adds special memories and special smiles for many of us who lived thru his reign. The photo is Jim behind the bank teller cage dispensing 1 ply toilet paper thin towels . The picture was taken after the photographer ask Jim for his biggest smile. He obliged.