https://www.gofundme.com/f/greg-lott-longhorn-quarterback
On September the 5th, 2019 Greg Lott fell while working outside. First, he thought it was heat exhaustion and dehydration. However, his blood pressure and pulse were through the roof. He was taken to the emergency room and it was discovered his heart was in atrial fibrillation (AFib) and The doctor also discovered an 80% blockage in an artery in the back of the heart. This is what caused the fall. A stent was successfully installed to stabilized the artery. The doctors have decided to try to administer medicine for 30 day to try to get his heart back into rhythm.

If that doesn't work, then there will have to be another operation to open the artery to have the hearts natural electricity puts it back into rhythm.
At his discharge medicare paid 80% but Greg still was billed for $101,297.97 for the extra 20%.
Any donations to heath problem would be greatly appreciated.
Greg's Gofundme account is at https://www.gofundme.com/f/greg-lott-longhorn-quarterback


Here is more about Greg Lott written by Pat Culpepper.
Article About Greg Lott And Farrah Fawcett By Pat Culpepper
The Comments Below Are part of the story From Pat Culpepper's Article In Inside Texas. Visit Inside Texas to see the whole story. I Have Added Photos To His Comments So The Readers Can Associate Pat's Story with photos.
PAT CULPEPPER SAYS ABOUT RECRUITING GREG LOTT AS A LONGHORN ASSISTANT COACH
Here is a little more about Greg written by
Greg Lott had Hollywood looks and what was important to me, outstanding speed! His career at Texas was highlighted by brilliant interception returns in big games. He also played kick returner with some success. I was long gone from the University of Texas when Danny and Greg played but I tried to keep up with them as best I could. I must admit that during my playing days in Austin I often picked out future "dates" from the University of Texas yearbook. Those were the days…, and it wasn't until my senior year that I settled down my dating activity to just one girl. No, it wasn't what you think; they were movie dates, dancing dates or double dates with my teammates to events in Austin's downtown or one of those great Mexican restaurants. I was not ever in the class of Greg Lott. His girlfriend was none other than what would later become Hollywood blonde bombshell Farrah Faucett!
Greg as a player
According to Greg they were more than serious, (whatever that meant) and they should have been married, but Greg stayed in Texas and Farrah went to Hollywood. She became famous with a beautiful striking face that featured piercing green eyes framed by flowing blonde hair. Her fabulous figure in a bathing suit adorned many a teenaged boys room and a few older "boys" as well.
Farrah died of cancer in 2009 at the age of 62, even more beautiful than she was at 22, at least from her heart. For so many she left money and art treasures which she had earned and collected. Gregg told me that he began to see Farrah again in 1998 and they had a close relationship between where he lived in Austin and her home in Hollywood. It became a tabloid topic because she had split with actor Ryan O'Neal.
Greg Lott and Ryan O'Neal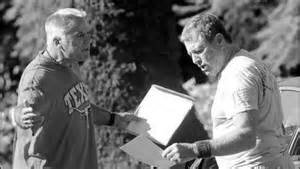 Ryan O'Neal meets his match in Greg Lott
I Have Found Out Through Friends That Greg Went Through A Difficult Time In His Life In The '70s And Early '80s, Lowlighted By Two Drug Convictions. Hollywood Looks Do Have Their Drawbacks I Suppose. Farrah Left Greg $100K In Her Will And Absolutely Nothing To O'Neal. Her Other Notable Possessions She Left To The University Of Texas Which Included Two Famous Portraits Of Her By Andy Warhol. They Were Done In 1980 In Warhol's Silk Screen Pop-Art Style Which Featured Her Bight Green Eyes And Red, Red Lips. One Of The Portraits Is Involved In A Case In The Los Angeles Superior Court. The Problem Is O'Neal Claimed That Farrah Gave It To Him, But University Of Texas Attorneys Claim Fawcett Got The Portrait Back In 1998 (When She Got Back With Gregg) And Kept It At Her Malibu Home Until Her Death.
O'Neal and Fawcett had split up in February of 1997 when she found him in bed with another woman. According to O'Neal he gave the portrait back to Fawcett because his new girlfriend told him that the picture made her, "uncomfortable". The value of the portrait is said to be estimated at $12 million, although it is insured for $600K. O'Neal claims that it is his, but there were two of these portraits and Fawcett's will which insured both drawings only mentions that she was giving them to the University of Texas' Art Department. In fact, it was Gregg Lott that brought attention to the fact that one of them was missing in the first place. The trial took place in Los Angeles and perhaps predictably Ryan O'Neal was awarded the portrait, even though Farrah had made no indication in her will that O'Neal would get anything. So a drama of sorts ends in court, but the true love story here told to me by Greg Lott was about the "time" that he and Farrah got to spend together before she passed away.
They enjoyed their time at U.T. and many years later there was still a spark that was alive and well. I recruited Lott to U.T., Lott falls in love with a campus sorority beauty who turns out to be a future star in Hollywood on Charlie's Angels and a pin-up queen in the 1970s-'80s. I'm proud of my "boy" Greg, he was faithful to the end of Farrah's life and he always yells, "Coach Pat" when he sees me. And in her defense, Farrah did remember her school and wanted to give them her most treasured possessions and left my recruit a parting gift of lots of money…you never know.