THE NAVIGATION TOOLS TO THE CONTENT OF THE WEB SITE ARE AT THE TOP OF THIS SCREEN. THE SITES ARE "QUE" , "FANs", "TLSN", "SPORTS", "ARTICLES", "ICONIC", "MISSIONS", "LOST TOO SOON", "SENTRY", AND "DONATE".
A condensed bullet point history of Texas Longhorn football during the Royal years follows. Please go to the "credit" section of this website to view books you can purchase from many fine book stores about Texas Longhorn Sports or please visit the official University of Texas Longhorn site Texassports.com.
At the end of WWII Royal asked a former freshman player to write a letter to UT and ask about the possibility of Royal playing for Texas. At the time UT primarily recruited in-state talent so they rejected Royal request to be a Longhorn.
Coach Royal had a fear of Public speaking when he was hired at Texas. He reached out to Bill Alexander a consummate speaker for help. Bill told Royal to memorize the BRIDGE BUILDER by Will Allen Dromgoole and learn to tell it like a story and not a poem. Coach Royal did as instructed and learned a valuable lesson. You can't imitate someone's speaking style or their mannerisms without coming across as phony so he decided to just be himself at speaking engagements. He commented "I do think that if you're sincere, even in a clumsy way, sometimes it might have some effect." After this revelation Royal created his own style and the "Royalisms over the next 20 years started to flow. Search for "Bridge Builder" to understand the origins of Royalisms.
http://www.cah.utexas.edu/news/press_release.php?press=press_royal_memoriam
http://www.cah.utexas.edu/publications/royal.php
http://www.cah.utexas.edu/news/press_release.php?press=pressroyal
Royal understood the importance of attitude in winning.
Royal was a dreamer. As a young man he dreamed of kicking a ball 90 yards, or running faster than anyone, or getting a coaching job that he would never get. Royal was small for a football player. He was even told in high school that he was too small to try out for the football team. Because of his rejection from the football team due to size and speed, Royal understood early in his coaching career that slow and small guys who dreamed big were great recruits. He knew these young men were winners. He also understood that there were great athletes with power, height, and speed but who did not have the heart and soul to compliment their attributes. In the 60's Royal's won three national championships combining skilled players with many players who dreamed big and who believed they were bigger and faster than they actually were, and they won. James Saxton remembers that when they played Ole Miss the Longhorns were out weighed 40 pounds a man but they won the game. Attitude not talent wins many games and Royal's early teams had attitude. In the book "Darrell Royal Dance With Who Brung Ya " it is noted that in Royal's first 5 years at Texas there were 21 goal line stands where the opponent failed to score- saving 9 games that would have gone in the loss column. "Attitude" won those games.
Royal demanded three things from recruits. He said "the athlete must be ambitious in his studies and make proper progress toward graduation; that he conduct himself like a gentleman and reflect credit on the university; and that he be a competitor."
From Bob Hawthorne's book Longhorn Football- Royal's theory of football was to keep the game simple and direct. Know what you're trying to accomplish. Express it clearly and precisely. "Plan everything down to the smallest detail. Be disciplined. Be prepared. Play with ferocity. Beat the man across the line of scrimmage from you "jaw to Jaw". " Coach Royal once said " you want them to play every Saturday as if they were planting the flag on Iwo Jima."
Royal era begins 1957- He is "The Bridge Builder"
Royal arrives and the Longhorns learn how to "twist and shout" and Rock the Longhorn Fans around the clock.
Rodney Kelley tells a transition story from Coach Price to Coach Royal
Rodney Kelley says "I am not sure if you know the story about Garland and his team mates. Coach Royal's first season was their senior year. The year before they only won one game. They beat Tulane 7-6 without scoring an offensive TD. Tulane fumbled in the end zone and the Horns recovered, kicked the extra point. Tulane scored and Garland Kennan, in the middle of the photo, blocked the extra point for the win. Garland was one of Coach Royal's first Captains. In his first year Coach Royal went 6-3-1 and played Ole Miss in the Sugar Bowl and got beaten badly. It would forever change the way Royal prepared for bowl games.
Walter Fondren is Mr. Everything for the Horns. He is always among the leaders in rushing, passing, receptions, punting, punt returns, touchdown, and point after conversion.

Arlis Parkhurst said " We didn't have a grand time before the bowl game. We had two a days. Worked like spring training. Game time we had no legs. Coach Royal later said he learned a great lesson . That is when he started treating the team, wives, and dates to a long weekend at the Dude Ranch in Bandera after the bowl rather than before."
First picture- Louis Del Homme and Walter Fondren
2nd picture-Gamblin, Royal,McWilliams, Carlisle, Bass, Cook, and Kubin
First picture-Gene Powell, Loyd Wainscott, Linus Baer, Coach Royal and Tommy Loeffler.
link to Royal's quotes is below
http://www.brainyquote.com/quotes/authors/d/darrell_royal.html
1957 6-4-1- Rebuilding the winning tradition
DKR says "Football is a physical contact, spartan game. You don't go out there for any taffy-pull......"
While all spring trainings are difficult, the 1957 "reset" and the 1968 "purge" were tradition builders. Very quickly in 1957 the players understood that only the strongest would survive Royal's regimen.
12 sophomores make the starting lineup
Top of the Charts 1957
In the video Tom Hanks father is on the far left.
Tackling fundamentals by Coach Royal
Texas loses to OU 21-7 but for the first time in 6 years fans could see a positive attitude change in the Horn football program. Royal says "it's funny how you can lose a game… and still pick up the poise and confidence we need".
The letter below to Bobby Goodwin was sent to each freshman in Coach Royal's first recruiting class at Texas.
About Media criticism Royal says "How can you truly appreciate a compliment if you've never been criticized?"
Fred Bednarski on Oct. 19th 1957 is the first soccer style kicker to kick a field goal in college football history.
Final ranking 11th nationally
Coach Pittman is assigned the responsibility of restoring dormitory discipline. He does! One player had a fight in his room and broke the window. Coach Pittman proceeds to throw the players personal belongings out the window and kick him off the team.
The DKR era arrives, and the notorious "Medina conditioning Sessions" begin. ( Please use search engine for "Frank Medina" to read the article about Frank Medina.
In the book Runnin' with the Big Dogs the author Mike Shropshire states that "Royal is a hands-on coach, particularly with his quarterbacks," and the "kicking game is an almost manic obsession." Royal states " a boy shows how much he wants to play ......in two-a-days when it is hot and tough". " I don't count on the boy who waits until October, when it is cool and fun". That player may be " better than three guys in front of him, but I know those three won't change their minds in the fourth quarter."
When Coach Royal takes over he has several immediate issues to overcome. In Jenna Hays McEachern book DKR- The Royal Scrapbook she notes that Logan Wilson, the University of Texas president, informs Coach Royal that all freshman will have to pass an entrance exam. In the book Oklahoma vs Texas Robert Heard elaborates on Jenna's point by saying President Logan Wilson is not particularly fond of Longhorn football usurping Academia, so he passes a new rule that requires all students to pass an entrance exam before admission . Up to this point in time, It is the toughest admission standard for a state school in the history of college sports. In 1957 23.5 percent of the student body was on scholastic probation.
Royal has no problem with the new directive from UT and decides to hire a full time academic counselor instead of a football recruiting director. Coach Royal says "We don't need another ' get 'em here' coach: we need a 'keep 'em here coach".
Texas hires Lan Hewlett as the first "brain coach" in college sports. His official title is Academic Counselor.
Lan said "I feel our boys are college students first and athletes second, and I'm sort of the catalyst trying to get an athlete and his professor close together-without getting used up in the process." Texas is the first University in NCAA history to have a full-time "brain coach". Adding an Academic Counselor is one of Coach Royal's finest legacies and Jenna McEachern states in her book DKR The Royal Scrap book that "80% of the lettermen during the Royal years graduated". In Jenna McEachern's book 100 things she states that 45 of 48 players on the 1963 team graduated and The teams GPA was higher than the student body GPA average.
A bigger problem than the Scholastic entrance exam is the team he inherits. He said "You don't take over a team that has lost nine games and inherit a warm bed". He calls the 1957 team his "average whackers". However, the 1957 team was not average, and the foundation for Royal football is set.
The split-T is installed
Fondren wins the starting quarterback job and Coach Royal says he is "quick as a hic-cup".

This team plays Ole Miss in the Sugar Bowl, but loses the game. Coach Royal concedes that "he worked the players too hard before the Sugar Bowl game, and he said "the Sugar Bowl game against Ole Miss would forever change my bowl game preparation." He says "it was just inexperience on my part, but when you get a lesson like this, it's a forceful lesson". In the next 19 years, he never push's another one of his bowl teams as hard as he does the 1957 team.
Walt Fondren and the entire starting offensive line graduate.
1958 7-3 - A tradition building year
James Saxton, Jack Collins, Mike Cotton, and Ray Poage are all freshman and are the fastest quartet in Longhorn football history.
Two Point conversion option is added after a touchdown.
About playing OU in 1958 he said "they get a yellow dog running downhill and they'll strap him real. good."
Coach Royal receives a lifetime membership in the ex-students association. No other coach and no graduate of another school has ever received this honor.
Royal looks for players who understand that starting a winning tradition requires bumps and bruises. He says "Texas has to develop a football tradition. It had one once but lost it. When we get one, maybe we can stop the blood-letting up at Dallas (the O.U. game) and turn it into a good show."
In the O.U. game Royal becomes the first coach in NCAA history to win a game with a two point play. Royal says "We decided on Friday to try for the two points if we scored first. We felt in this ball game one touchdown wouldn't hold up, and we were shooting for the win." Don Allen made the two point conversion behind the block of .G. Anderson .
Captain Parkhurst loses some teeth in the Rice game. Two days after this incident, the rubber mouthpieces ordered for the players arrived.
In the 1958 Texas-O.U. game the Sooners beat the Horns soundly in the first half and Royal motivates his team for the second half by saying "There's a helluva fight going on out there-by one side. Why don't you get in on it?"
With Royal's half time speech, the help of the red candle tradition , the new two point rule, and Vince Matthews passing Texas beat O.U. for the first time in many years.
Vince's heroics reflect a new attitude for the Horns and the "blood-letting in Dallas" is finally over.
The victory over O.U. in 1958 is the stepping stone used to convert the Longhorn bumps and bruises over the next 15 years into one of the best college football programs.
Below is a 1958 letter to the Texas Ex-Students Association
5 out of the 7 wins are come back victories in 1958.
Coach Royal says that the comeback against Georgia in 1958 is "the best thing that could happen to us." "It sure gives you confidence you can do it again. You do that a few times and then you've got a tradition started".
Royal loves the quick kick, and uses often in his earlier years at Texas. Bobby Lackey has a 61-yard quick kick against Georgia. Coach Royal says of the loss to Rice "There was a hornet's nest waiting for us in Houston, and we were walking into it like Little Red Riding Hood with jam on her face."
Tear Away Jersey- In the 1958 SMU game Wurlitzer is running with the ball when the SMU linebacker "apparently grabs him by the jersey and pulls him down several yards short of the first down". This "incident plants in Royal's mind the need to adopt tear away jerseys. Team declines an invitation to the Gator Bowl "because of the bad taste from the previous year's bowl disaster against Ole Miss.
Coach Royal now has all the ingredients for a winning tradition.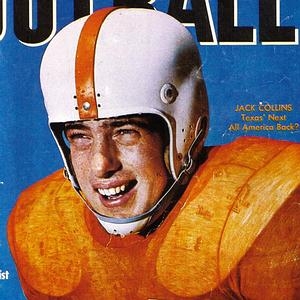 The first issue of Texas Football magazine. Jack Collins of Texas...before Coach Royal changed the colors back to burnt orange Played high school football at Highland Park. RB on the Longhorns teams of 1959-1961.
1959 9-2 1960 Cotton bowl – a loss to the Eventual National Champions but still a win for the Texas program.
This was the year that there was a 3 way tie for the SWC championship- Texas, TCU, and Arkansas. All three were in the top 10, but Texas received the Cotton Bowl invitation because of a rule that stated the team that had been to the Cotton less recently would receive the invitation.
The goal post is widened by 5 feet. Goal line infractions were changed to half the distance to the goal . Substitution rules now allow one player to enter the game when the clock is stopped.
Final ranking 4th nationally
In Lou Maysel's book he says"Backfield speed, so limited during Darrell Royal's first two seasons at Texas, increased markedly with the addition of a talented sophomore class to the 23 returning lettermen. James Saxton, Mike Cotten and Jack Collins al ran 9.9 100's. Fifteen of these veterans were seniors who had been through the hard slogging of the formative Royal years, and they formed the framework for the launching of Texas into the new age of more explosive football." The new group and new attitude was led by "Don Allen, who helped start the Texas hitting tradition" , and Monte Lee who coach Campbell said "never went half speed".
Coach Royal says of James Saxton "He's the quickest football player I've seen. He gives you a thrill on a two-yard gain. He is like a balloon full of air. When you turn him loose, there's no telling where he's going and when the play is over, he's spent".
The offense changes to a "LSU-style Wing T" and the defense to a "6-2-2-1 alignment which requires changes in duties and style of play for everyone.
T- Jones moves up to the varsity to coach and Coach Bill Ellington joins the staff to coach the offensive line.
Bob Gurwitz (above) interception against A & M clinches the SWC championship in 1959.
18 years after the 1959 Texas-Arkansas game Fred Akers will be the head coach the Texas Longhorns but in 1959 as a player on the Arkansas team he has a 30 yard field goal attempt blocked by the Longhorns. Texas wins 13-12.
Bob Lackey is on the front cover of Sports Illustrated in November 1959.
Cotton Bowl game in 1960 is against the number 1 team in the nation. The press loves Syracuse. Quotes from the L.A. Times and many other newspapers basically tell Texas to concede the game and go fishing. Coach Royal says "we want crawl into the ring against Syracuse in awe. We've got enough competitive spirit that we don't feel we're whipped".
Kristynik's, demeanor is evident, consistent, and uniform - before, during, and even after a play.
The game includes a fight on the field and accusations that the Longhorns are prejudice. President Wilson ask the NCAA to investigate the Syracuse allegations. The NCAA dropped the case with no conclusion.
There are accusations that Texas players are prejudice, and Texas players play dirty. Coach Royal offers to let anyone inspect the game films for evidence of dirty play and comments " Looks like they (Syracuse) ought to be satisfied. They're number 1. They won the Cotton Bowl. Ben's (Syracuse coach) is coach of the year. I don't know what else they want."
Lou Maysel says in spite of the unsavory ending , the 1959 season is a return of Texas as a national power, and it also ends a drought of individual honors. Maurice Doke is an All American and Lee, Collins, and Ramirez make the All SWC team.
Royal receives an extension on his contract without a raise to $17,500 a year.
Maurice Doke makes the All-American team.
The chemistry of the players from the 1956-1959 era in combination with the insights of the coaching staff revive the winning tradition that will bring the Longhorns 3 National championships and many SWC championships in the 60's and early 70's.
1960 7-3-1
28 sophomores make the 44 team roster.
For the first time in 140 games the Sooners are shut-out. Texas 24 -OU 0. After the game Don Myers of the Daily Texan wrote "It was so quiet in the Oklahoma dressing room you could hear a win drop."
According to Royal 1960 is the turning point to "building the bridge". He said " I think our program would have been a long way towards hard times if that team (1960) hadn't rally" from a 3-3 record.
Second in the SWC but loser of two games the Longhorns could have won. Each game is decided by one point. Injuries and fumbles hurt the offense but the defense let by Culpepper, Lee, and Cooper was stellar.
Alabama and Texas tie in the Bluebonnet Bowl. Both teams have coaches who know that if the opposing team does not score you can't lose. Both teams play great football and tie 3-3.
Monte Lee is The First Two Year Captain Since 1903. No Player After Lee has received this honor.
There is A New Substitution Rule That Allows One Player To Enter Between Plays. Using This New Rule Royal uses Poage On Offense And Culpepper on defense.
Based On A Suggestion From An Alumni Coach Royal moves James Saxton From Quarterback To Right Half Back.
Saxton initially signs with Rice but changes his mind and decides to sign with Texas.
James Saxton becomes one of the greatest backs in Longhorn history after heeding Coach Royals "advise" To " Quit Dancing So Much And To Head Up field".
Texas Tech Joins The SWC.
Bud Wilkinson Says After The 24-0 Shutout Of OU by the Longhorns " It's No Mystery. They're Tougher, They're Faster, They Run Better, And They Tackle Better Than We Do."
1965- 6-4
By 1965 all prime time games were in color and the TV viewers exploded. Royal built the Horns for this new medium. Since there were only 3 networks and severely restricted games if the team was a winner like the Longhorns building a national reputation was simpler then now. In the early 60's Texas won 88% of their and on TV looked good doing it. From 1961 thru 1971 Texas was 24-7 on T.V. and 16-5 on national contest.
Rule makers allowed unlimited substitution for the first time since 1952. Royal said I will play the best player on the team on offense and defense and the best players at both positions are Bedrick, Elliott , Nobis, and Lammons.
Nobis and Harris suffered knee injuries in the Indiana game.
Ronnie Ehrig , Linus Baer Howard Goad, Jack Howe, and Tommy Nobis suffer injuries in the OU game. These replacement players do their best but the slide of 1965 begins.
Dinner at Moore-Hill Hall
Team returned 12 lettermen from a team that only lost one game by one point in 1964. The sports media and the fans were anticipating another great year. It starts of as all expected with 4 victories and then there was the loss to Arkansas followed by losses to Rice and SMU, and TCU. The only saving grace for this year was defeating the Aggies on turkey day to salvage a 6-4 season.
Royal states that this is his most disappointing year at Texas. The team losses to Arkansas again and the wheels came off. Royal said playing Arkansas in Fayetteville is "like parachuting into Russia."
Prior to the Arkansas game Royal said "I was as nervous as a pig in a packing plant." Texas was upset by Arkansas 27-24
6 And 4 Seasons Are Not Good Enough Royal States " Longhorn Fans Are Finding All Along: I Ain't No Genius". Jimmy Banks Writes In A Biography Of Coach Royal " It Took Some Time For Royal To Realize That Success Can Breed Failure". Royal Says " A Coach Isn't As Smart As They Say He Is When He Wins Or As Stupid When He Loses."
Free substitution during possession changes finally passes, but Royal refuses to commit 100% to platoon football because he has players like Pete Lammons and John Elliott who are the best players in their position on offense and defense.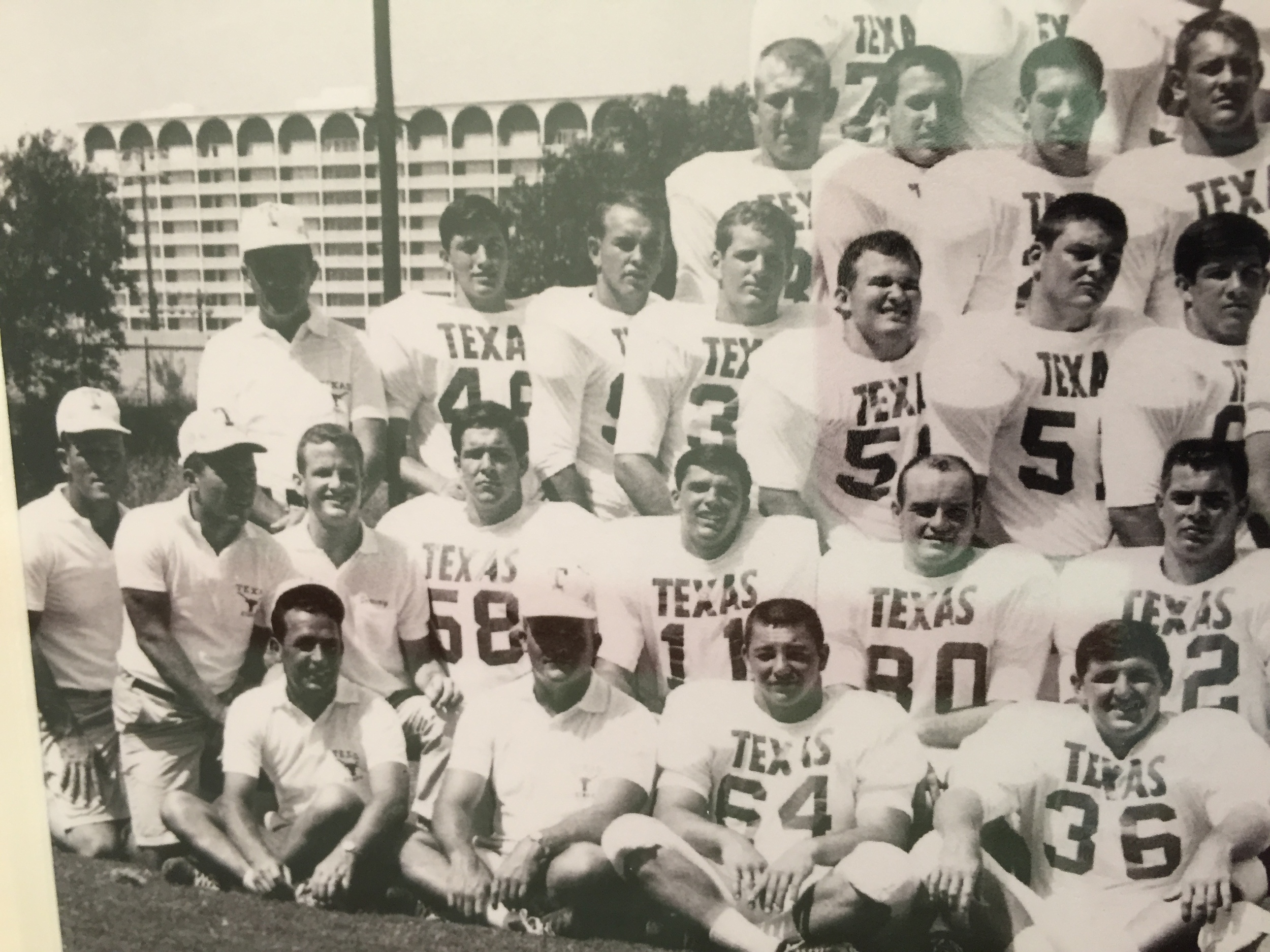 Lammons sets a record with 3 touchdown catches in one game.
The Valley Boys- Left to right bottom - Jim Helms from San Benito ,Freddy Edwards from Donna, Gene Powell from Weslaco and above Freddy Edward is Eddie Vaughan from Brownsville.
Dan Mauldin leaves the Longhorn football program early to pursue his education. He is a The Scholar-Athlete, All Southwest Conference end, Academic All-American, and Phi Beta Kappa
George Sauer leaves Texas early to pursue professional football with the New York Jets.
Royal feeds film study charts through the UT computer center for Rapid tendency compilation and closed-circuit TV instant replays. It does not help. This season starts a slide that will jeopardize Royal's career.
1966- 7-4 record
Royal states "I've always said that if alumni at other schools are unhappy with their teams, they should just come and watch them play Texas." Royal changes the offense from the wing T to the I formation. Royal no longer chooses to play players two ways.
Tommy Souders, Ken Gidney, Danny Abbott, Ron Ehrig, and Bill Bradley, Howard Fest, Peter Gallagher, and Bill Sullivan are all injured in 1966. Injuries that continue the downward spiral of Longhorn football. OU beats Texas but the Horns play with 10 starters out of the line up.
Royal tries to recruit Jerry Levias to Texas but fails.
Chris Gilbert is the first Longhorn to rush for over a 1000 yards in a season; the first Longhorn to rush for 2000 yards; the first to 3000 yards; and he holds the record for the longest run from the line scrimmage. (96)
Greg Lott is the only player in Longhorn history to return an opening kick-off for a touchdown.
Bill Bradley seriously hurts his knee in the Indiana game. Andy White replaces him and the Longhorns win 35-0. Defense was great in 1966 but there is no question that the injury to Bradley hurt the offensive plans for the whole year.
Arkansas beats the Longhorns for the third time in a row. Texas fumbles 3 times and is intercepted twice.
Coach Royal is concerned about the "character and commitment" of his players and writes the following poignant letters to them during the Summer of 1966.
Coach Royal says:
"Have the courage to make the Longhorn image one of which we can all be proud -if not please be man enough to drop off the squad."
"If winning is not important, why the hell keep score?" Defeat truly comes from within. I am far more concerned with what is inside of your heart than the figures that show on the scoreboard."
OU offers DKR the coaching job at $32,000 a year with side benefits that will increase his salary to $50,000.
Coach Royal declines the offer and says " I have deep affection for the University of Texas and my roots and those of my family are mighty deep in the state of Texas." Texas promptly increases his salary to $30,000
For Coach Royal money is not his primary motivator. He said "I would be deathly afraid to take another assignment just for money and get up there and find out I'm unhappy. I could take that money and lay it out on the bed and look at it every night, and it would not make me happy. Damn, if I was miserable, I would know I was miserable."
Royal commits to full platoon football
Of the 67 man recruiting class of 1964 only 15 survive to their senior year and only 6 letter.
The offense changes to the "I" formation with a split end.
The names for "weak" and "strong" sides is changed to "Tight" and "Quick" because Gene Bledsoe's girlfriend does not understand why Gene is considered a "weak" tackle.
7 sophomores start the season and 7 more are thrust into starting roles.
Chris Gilbert is the catalyst for the offense. Coach Royal says "watching Chris run is like looking at a filmstrip with several frames missing".
14 players miss at least one game .
1967- varsity 6-4 record
Enrollment is 29,841
DKR has a word for TCU, and in 1967 they lived up to their DKR name. Losing to A & M made the season worse. A season that started with promise ended in disappointment.
Top of the charts 1967
Coach Mike Campbell says about Chris Gilberts fumbling in 1967. "His problem is momentum," says Campbell. "When he makes a move it's so fast the ball doesn't always get the message."
This season is a bust! After beating Ole Miss in the Bluebonnet bowl with 16 sophomores the 1967 team looked promising, but the failure of the 1964 recruiting class haunts the team.
Emory Bellard is added to the Coaching Staff.
A new rule promotes the punt return. Offensive linemen were held at the line of scrimmage until the punt was kicked.
For the first time since 1938 the Longhorns lost their first two games.
Howard Fest emerges at tackle and has a brilliant year.
Coach Campbell says that Corby Robertson plays with total disregard for his body.
After 10 year of dominating A & M , Texas loses. It is Royal's first loss to A & M.
The Longhorn Football Teams In The Early 60'S Won With Class, Talent, Hard Work, Character, Attitude, Grit, Backbone, Fortitude, Moxie, And A Little Luck. For Young Boys Across Texas The Longhorn Helmet became The Symbol Of Winning The Longhorn Way. These young boys dreamed of playing for the University Of Texas and many of these dreamers form the nucleus Of The 1967 football recruiting class.
The '67 class participates in all 30 games of the 5th longest national winning streak since 1950, and the 12th Longest winning streak in football history. The 1967 recruiting class in 4 years only lost 2 games with a record of 35-2-1 including 3 SWC championships and 2 National Championships.
The Longhorns were so strong during this period that Craig Byrd of The Daily Texan said that "Beat The Hell Out Of TU" became a a prayer at A & M , a threat at Texas Tech, and a religious duty at Arkansas.
The Wishbone
In 1967 Coach Royal decides that instead of getting mad at three 6-4 seasons, he will get a new offense, and the Wishbone is born. Royal immediately understands the potential of the Wishbone Option Offense designed By Emory Bellard .
According To The Book The Darrell Royal Story By Jimmy Banks Coach Royal Said The Wishbone "Is Just A Souped-Up Version Of The Split T" that Royal ran as the OU quarterback. Royal says that as the OU Quarterback he struggled to master the read option offense, but once he mastered the option Royal said "I used to like to suck them in on me so I could pitch out because that's where the big gainers were."
The Wishbone was conceived by Emory Bellard but Royal from the very beginning of the wishbone was involved in helping the Texas Quarterbacks learn to read the opposing defenses and choose the correct option.
Positive things are about to occur for Longhorn football
Longhorns sign 7 of 11 of the top Texas football players which included 3 of the 4 best backs. Of the top 22 recruits Texas signed 12. Of the top 33 Texas signed 12. The Worster bunch would earn 3 SWC championships, two national championships, and win 30 games in a row.